Kick Off meeting 2020 (26/11/2020)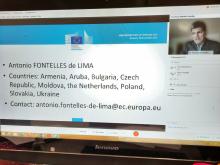 The Education, Audiovisual and Culture Executive Agency (EACEA) organized a kick-off meeting for new granted coordinators of Jean Monnet projects. The meeting was held on November 26, 2020 and because of the current pandemic situation it was organized online.
Prof. Anna Bandlerova as a coordinator of the project "Quality Soil as a Pathway to Healthy Food in the EU (FOODIE), no. 621119-EPP-1-2020-1-SK-EPPJMO-PROJECT also attended the meeting.
Purpose of the event was to provide important information on the management of Jean Monnet projects and to discuss administrative and financial issues with representatives of EACEA.
The morning plenary session was dedicated to general questions regarding grant management and dissemination.
The afternoon individual session was focused on specific questions related to realization of activities during the actual Covid-19 pandemic situation and other issues related to new projects.
During the afternoon session project coordinators had a unique opportunity to meet their project officer and discuss all their specific problems.
We appreciate a very good organization of the event. This meeting was very useful and it will contribute to a successful project implementation.